You're at:
Location Sound

IndyFilm Home


SERVICES:
• Production
• Cinematography
• Location Sound
• Post Production


EQUIPMENT:
• Lighting & Grip
• Cameras
• Sound
• Post Production
• Rental
• For Sale


FEATURES:
• The Sound Letter
• Screenwriters
Notebook
• Links
• Downloads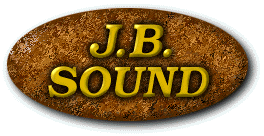 John Blankenship, C.A.S.
Sound Recording, Mixing, & Editing
With experience that spans several decades, John has done audio production for radio stations, was broadcast producer for a major Indianapolis advertising agency, designed recording studios, did audio editing and production for numerous creative radio campaigns, and owned and operated a full-service 24 track sound recording studio.
In the early nineties, John began following his cinematic dreams and became involved in independent film. He developed his talents at writing and producing and later began adding cinematography to his skill set. In the late nineties, John called upon his long history and love of audio to learn the techniques of both location and post production sound for film and video. Over the last several years, a large portion of John's time has been dedicated to his services as a location sound mixer and post production sound supervisor as well as running his production company which specializes in independent film production.
FILMS:
Sole of a Hustla
Location Sound Mixer
True South Productions
Prod./Dir.: Chad Heeter
Two Million Minutes
Location Sound Mixer
Broken Pencil Productions
Prod./Dir.: Chad Heeter
An American Boy II
Location Sound Mixer &
Post Production Mixer
Wildwood Pictures
Prod./Dir.: Don Hughes
By the People
Location Sound Mixer &
Sound Designer
(All Post Production Sound)
Hyperbaric Productions
Prod./Dir.: Malindi Fickle
Family Emergency

Location Sound Mixer (add'l.)
KeaCo Productions
Prod./Dir.: Kehaulani Hayden

Coming To My Senses

Location Sound Mixer &
Sound Designer/Post Sound
Umbaugh Filmworks
Prod./Dir.: Chad Richards

Fake I.D.

Location Sound Consultant
Brazen Films
Prod: Brad Hines/Harry Huston
Dir: Joel Umbaugh

The Postcard

Location Sound Mixer (add'l.)
and Post Prod. V.O. Recording
Mynett/Lewis Films
Prod.: Sarah Mynett
Dir.: Kehaulani Hayden

Suspended Animation

Sound Recording &
"Making Of" V.O. Narration
Jolliff Digital Productions
Dir: John Hancock

An Everyday Occurrence

Location Sound Consultant
Creative Media Group Int'l, Inc.
Dir.: Dylan Griffith

Earth and Women

Music Recording &
Post Production Sound Mixer
Differentia, Inc.
Prod./Dir.: Lyndol Michael

I Am DB

Location Sound Mixer
Jolliff Digital Productions
Prod./Dir: Jason Jolliff

Diagnosis: Trauma

Location Sound Mixer
Aching Feet Productions, Inc.
Prod./Dir: Mike Nirenberg

Roadside Ambition
Location Sound Mixer, Field Producer
Northeast Entertainment Ventures,LLC

The Wendell Tragressor Story

Location Sound Consultant
and Sound Designer
Prod.: John Blankenship
Dir.: Brian Craft

Chalk

Sound Designer & All Post
Production Audio
Fearless Motion Pictures
Prod./Dir.: Michael Heiny

Lil' River Rats and the Adventure of the Lost Treasure

Location Sound Mixer
Lucky Chester & Mavis, Inc.
Prod./Dir.: Dan T. Hall

Rogue Runners

Location Sound Consultant
Filmwave Imaging
Prod./Dir.: Steve Toney

The Overbeck Sisters: A Legacy of Spirit

Location Sound Mixer
Natalie Richert Productions
Prod./Dir.: Natalie Richert

Sex For Your Soul

Location Sound Mixer
Eight Ball Productions
Pr/Dr: Brian Craft/Aaron Mack

American Vendetta

Location Sound Mixer, Sound
Designer & Audio Post Prod.
Windmill Productions
Prod./Dir.: JJ Stenzoski

The Choir Invisible

Sound Editing
Prod./Dir.: Steve Cook
Television:
CBS Network:
CBS Evening News

Location Sound Mixer
CBS News

ABC Network:
Good Morning America

Location Sound Mixer
ABC Productions

USA Network:
Nashville Star

Location Sound Mixer
USA Network

Discovery Channel:
The New Detectives
(Several Episodes)

Location Sound Mixer
New Dominion Pictures

Nat'l Geographic:
Indy Racer
Pilot Episode

Location Sound Mixer
New Dominion Pictures

Discovery Channel:
The FBI Files
(Several Episodes)

Location Sound Mixer
New Dominion Pictures

HGTV:
If Walls Could Talk
(Several Episodes)

Location Sound Mixer
High Noon Entertainment

NBC Network:
NBC Nightly News

Location Sound Mixer
NBC News

Discovery Channel:
Monster Nation
(13 Segments)

Location Sound Mixer
Original Productions

Discovery Technol.:
TechKnowledge
(Striker segment)

Location Sound Mixer
Moondog Entertainment

Discovery Health:
Goliath Caskets

Location Sound Mixer
Kralyevich Productions, Inc.

The Food Channel:
Grill Gantua

Location Sound Mixer
High Noon Entertainment

Live From The Clutter
TV Series

Sound Supervisor
Visionary Productions

The Independents
TV Series

Sound Mixer
Visionary Productions

Music Videos:
Taylor Swift
Change
Olympics/AT&T

Music Playback and
Location Sound Recording
Shawn Robbins Productions

John Mellencamp
The Americans

Timecode Music Playback
RayGun Creative

Cynthia Layne
We

Timecode Music Playback
JGIC Pictures

The Ataris
The Saddest Song

Timecode Music Playback
The Artists Company

TOS–The Other Side
Take A Ride

Timecode Music Playback
Kingdom Pictures

Along with numerous films and documentaries, John has done sound mixing for: The Discovery Channel

PBS

National Geographic

TNT

USA Network

ESPN

NBC

CBS

ABC

HD-Net

WB

BET

Extra

Entertainment Tonight

Inside Edition

HGTV

The Food Channel

German Television

Arabic Television

NBA Entertainment

Oprah

Dr. Phil

Rachael Ray Show

Indiana State Museum

American Experience

Speed Network

Indianapolis Motor Speedway Productions and many other local, national and international companies.

Contact:
John Blankenship, C.A.S. - 317-257-9900




Recording sound for motion pictures is a highly cooperative venture that requires the best microphones, recorders, knowledge, skills, dedication and focus to achieve a quality soundtrack. Whether capturing location sound or manipulating audio assets in post production, John brings the attitude and discipline to see the job completed well.


Speed and efficiency are cornerstones of the fast-pace of television projects in today's world. John has the experience, dependable equipment and dedication to capture the audio needed for high quality, yet efficient, production.


Advertising, corporate videos, web streaming, and other contemporary communication, rely on versatility and flexibility. John is equipped to provide the audio support necessary for everything from a fully crewed film shoot to a quick and efficient corporate piece.



SOUND
EQUIPMENT

John carries full equipment packages for both single system sound (recording directly to a video camera), or double system sound (recording to a separate recorder, such as for film production or higher quality Hi-Definition shoots).

Whenever possible, John carries backups for all gear. From microphones and mixers, to cables, batteries, and connectors, redundancy is key.

Single System Sound:
Mixers
• Sound Devices Mixers (2)
• Audio Developments Mixer
• Portabrace Mixer Cases
Boom Microphones
• Schoeps 641 supercardoid mic
• Sennheiser mkh416 shotgun mic
• Rode NT4 XY-Stereo mic
• Oktava MK012 "crash mics"
• Rycote Windscreens/Windjammers
• Rycote, LTM, & K-Tek suspensions
• 8' & 13' VDB Cabled Boom Poles
• 13' K-Tek Cabled Boom Pole
• Boom stands and holders
Lav Microphones
• Sanken COS-11 (5)
• Countryman B6 (3)
• Countryman EMW (3)
• Sennheiser MKE2 (5)
• Lectrosonics M-150 (10)
• Misc. Shure, Sony & AT lavs
Other Microphones
• Shure, Sony, Beyer, Oktava
Crown PZM, Audio Technica
Wireless
• Lectrosonics Wireless Systems (7)
• Lectrosonics plug-on transmitter
• Sennheiser Wireless Systems (2)
Monitoring
• R.A. HN-7506HD Headphones
• Sony & AT Headphones
• Comtek Transmitters
• Comtek Personal Receivers
• Advent Portable Speakers
Miscellaneous
• JK Audio - Telephone Handset Tap
• 20' Dual Breakaway Cable System
• 50' Dual Breakaway Cable System
• Transcription Recorders
• Sound blankets and stands
• Versa-Flex Audio Harness
• Pelican Cases
• Extensive collection of cables,
connectors, adapters, accessories,
gizmos and gadgets


Double System Sound:
All the above, plus:
• Zaxcom Deva nonlinear digital
recorder w/Timecode
• Fostex PD4 Timecode DAT
recorder w/latest firmware
• Portabrace Cases for Deva & PD4
• Digital backup recorder
• Denecke TS-3EL Timecode Slate
• Denecke TS-1 Timecode Slate
(both slates are wireless, wired, or
"Smart Slate" jam-sync capable)
• P-Touch Slate Labeler
• Duplex Boom Cables
• Wireless Body Pouches (5)
• Watertight Transmitter Boxes (3)
• Sharkfin Antennas (2)
• Car Top Transmitting Antenna
• Comtek Transmitters (4)
• Comtek Personal Receivers (17)
• Wireless Ear Prompter Systems (4)
• Walkie Talkies (8)
• Standard-def & Hi-def video monitors
• Upright and Long Bed Sound Carts
• More Pelican Cases


Additional Equipment:
• Lectrosonics Automatic Mixers (2)
(multiple mic'd conferences, etc.)
• Computer playback w/Timecode
• Distribution Amplifiers
(multiple camera feeds, etc.)


Additional Services:
• Location playback for Music Videos
(Timecode Slates, Digital Playback
w/Wireless interlink to amplifiers
and Speakers)
• Pull-down Prep for for Music Videos
• Full Service Audio Post Production
Sound Design, Lock to Video
Editing, ADR, Foley, Mixing
• Cinematography and Video
Production Services

RATES:

Call 317-257-9900 for Rates and Availability.


---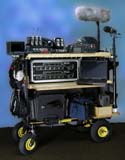 ---